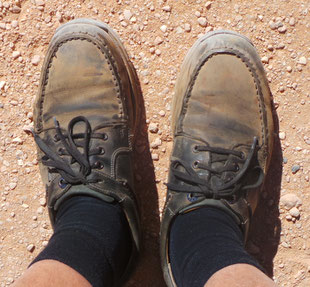 Epilogue of Grey Nomads
It is a great experience to travel through this country with most friendly and helpful bush campers. Our West Coast trip down from Darwin through the Kimberly's and Pilbara was a steady moving on.
Positive experiences:
- a SIA stopover package at Singapore (to Darwin) is well worth and you save tremendous amount of money.
- A daily +/- 400 km drive is okay.
- Having 3 days off driving and relaxing made us fresh for new impressions (out of 24 days).
- Our favourite place was Gumbanan (opposite Cape Leveque). It was a great bush camp, nearby sandy beach, a lot of birds and most pleasant campers.
- Yardie Creek (near Exmouth) and Windjana Gorge (near Derby) as well as the Lighthouse at North West Cape (Exmouth) became a good second.
- Most remote bush camp we had at Balla Balla in the west of Dampier.
- Sunset and sunrise at the north Pilbara coast makes most wonderful rainbow coloured skies, but avoid to be too late at the beach!
- To travel in winter time (July/August) was great with warm days around 25-30 degrees and fresh nights. Just down to the south (below Exmouth) you feel the cold season.
- To travel along Rio Tinto railway lines is well worth (you need special permission), especially along the Roebourne-Millstream track.
- The silence and stars at night makes you wonder all night.
Lesson learned:
- Grey Nomads occupying all powered sites ... a motel or a cabin is more expensive but you have to take it from time to time to recharge all your equipment's.
- A one month WA National Park entry pass would be recommended, even as seniors you pay around half of normal entry fees.
- Millstream National Park doesn't shows on landscape what you expected from Google Pictures (no sun shined red hills, just flat woodland).
- We left aside Karijini National Park because of time reasons, maybe a thing we would make different next time. 
- Internet is most annoying and Visitor Centres not permitting battery recharge a nuisance (great exception is Karratha Visitor Centre, were all was provided in perfect quality and quantity).
- Life is quite expensive, especially vegetables and fruits.
If you need any information, please use my contact form.
3.8.2017 – Last station Geraldton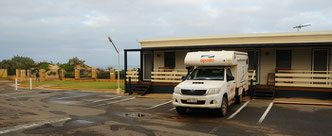 … cleaning up 
On the way south on our second last holiday day we went for a WARM cabin at the campsite (unfortunately the air conditioner produced cold air only) in Geraldton. Time to clear up our 4WD-home, put things back to our baggage and have a warm cosy night in a cabin near the beach. With 7188 km we arrived at Apollo Return Centre in Perth accident free and with tremendous impression of this XXL-country Australia.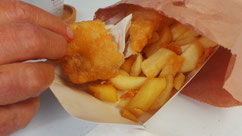 ... and a last Fish & Chips
2.8.2017 – Cold Galena Bridge
First frost in the morning
Driving south along a 50 km straight stretch of North West Coastal Highway we stopped at Galena Bridge bush camp for an even colder night … shivering almost all the time. Before sunrise we went up, cleared the window of frost and we went on in pyjama and several more layers of clothes towards Kalbarri National Park. At the lookout of Hawks Head we changed clothes under the first warm sunbeams and made hot coffee and a healthy breakfast. Called "The Loop" a spectacular view into a river gorge can be enjoyed. It is worth to stop at all four lookouts of Kalibarri National Park. The nice town of Kalbarri is well worth for a visit.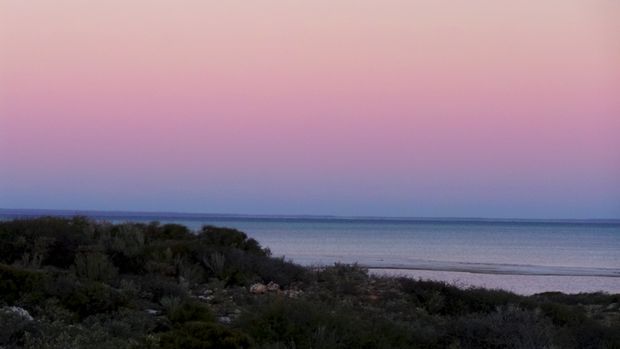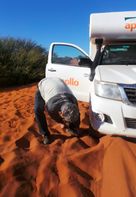 To Cape Peron … but not really 
First of August we celebrated at a wonderful night place at the beach of Denham Sound south of Whalebone Bay/Fowlers Camp (we named it Cold Windy Camp) with an extraordinary coloured sky after sunset. In the morning we went up north the explore Cape Peron. Coming to the 4WD-unsealed sandy road it shows a 40 km trip to the Cape. Within less than 8 km we became trapped in a sand hole … a one hour "rescue" operation was needed to dig out the car and proceed to a siding place within 10 meters. There we decided to turn, it was no way to reach the Cape under such condition with our too heavy 4WD-vehicle.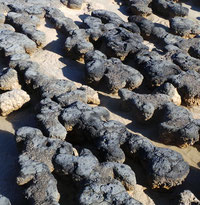 A view of life before Adam and Eva
A visit to the remarkable Hamelin Pool stromatolites in Western Australia is a must when holidaying in the Shark Bay World Heritage Area. Stromatolites are layered bio-chemical accretionary structures formed in shallow water by the trapping, binding and cementation of sedimentary grains by biofilms (microbial mats) of microorganisms, especially cyanobacteria. Fossilized stromatolites provide ancient records of life on Earth by these remains, some of which may date from 3.7 billion years ago.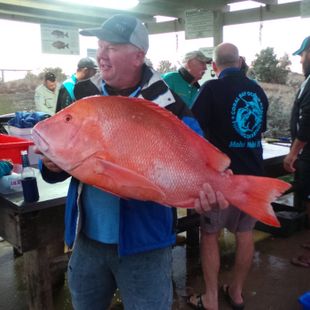 A tourist place 
A brief overnight stop we made at Coral Bay, but beside of two large camping's (at one we got an unpowered site), some souvenir shops, some restaurants and a beach for children not much to enjoy. Most attraction was the fishermen's table were the catch of the day was brought in and put to pieces. Some beautiful Pink Snappers and dark Tune fishes came to the table.
Just another beauty
Yardie Creek is the only gorge in Cape Range west of Exmouth to be permanently full of water. Ocean waves depositing sand on the shore have created a sandbar across the Yardie Creek mouth. This sandbar helps the creek to keep its water. The creek can remain closed to the ocean for several years. However during heavy rain weather the system can be flushed. When the creek is open to the sea, it is allowing marine fish, sharks and turtles to enter the creek. Also large spring tides combined with big seas can push saltwater over the sandbar.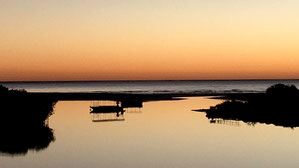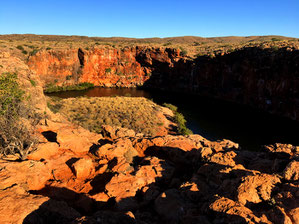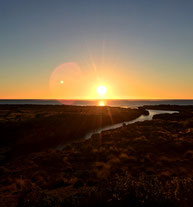 30.7.2017 – Turquoise Bay ... and sea

Enjoying snorkelling 
The coast of the Cape Range National Park is over the whole stretch of 260 km behind Ningaloo Reef, which breaks the waves and makes ideal swimming condition. Almost every small camp or day visitor location has its own beauty; some are also for snorkelling like the Turquoise Bay. Not too rich in corals there are only some fishes to see. Nevertheless we enjoyed those places and had the whole day to explore them as well as Mandu Creek (a walk clockwise would be recommended) and Yardie Creek.
29.7.2017 – Next stop at the beach
Roaring waves and wind at Kurrajong
Staying at RCA Campground at Exmouth we could place our car to an occupied place of a Swiss friend. Living over 10 years in Australia as outback instructor and surf teacher she could give us an inside view of life down under. We enjoyed her company and could leave her our Swiss Army knife, which she missed in her equipment. After having breakfast together we went on to Cape Range National Park, where all camp grounds were fully occupied. Arriving at Milyering Visitor Center the sign "fully booked" we tried our luck and went in to ask for a camping place … and there was one left over and we could register for it. Arrived at a place called Kurrajong we got our place just behind the dunes. All night we "enjoyed" the heavy noise of breaking waves and a strong wind coming up. The only negative aspect are the dead Wallabies along the street in the Cape Range National Park beside of all signs to preserve nature and protect animals.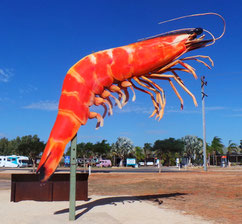 A place to live
Exmouth is a tidy town at the north-west of WA. The town was established in 1967 to support the nearby US Navy Naval Communication Station Harold E.Holt. Beginning in the late 1970s, the town began hosting US Air Force personnel assigned to Learmonth Solar Observatory, a defence science facility jointly operated with Australia's Ionospheres Prediction Services. The US personal imported 200 US left hand driven cars, a major attraction at Exmouth in those years.
Internet access and a recharging allowance … both are not provided at Exmouth and Milyering Visitor Centre at Cape Range National Park ... more interested to sell 400$ wales watching tours! TIP: Go to the room were a video of sea life is shown and behind the screen there is a power socket battery you can use unofficially while enjoying the video.
28.7.2017 – A 480 km drive
From Onslow to Exmouth
Driving the whole morning, nothing special can be reported. The landscape is flat with a few hills and some big red sand dunes across the countryside. After a brief stop at the Nanularra Roadhouse with coffee and chicken wings the trip went on. On the way north we passed our 5000 km mark. In early afternoon we arrived at the charming coastal town of Exmouth.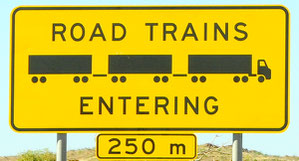 The Heavy Boys 
Those four and three units long road trains are fascinating all the time, many proudly polished by their owners. Also some oversized loads came along, the biggest with two mine loaders. For all whom like the heavy boys we put in some photos.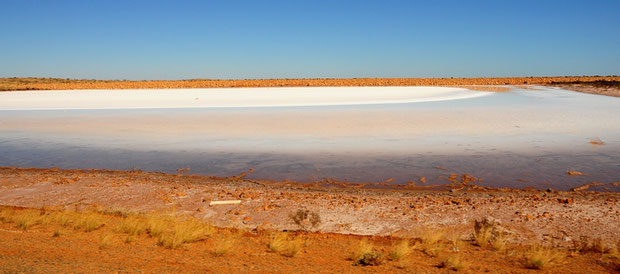 A sleepy little town
Next night stop became Onslow, a coastal town in the Pilbara region of Western Australia connected to the Indian Ocean with a nice walking trail along the beach. All camp sites full we choose the next best option: A neat bungalow with everything including (and a not working internet). The main industry of Onslow is salt, taken by sea water to dry on "lakes". Numerous cyclones have impacted Onslow over the years. Some destructive wind gusts of 200 km/h were recorded during those cyclones, which often bent telephone poles, leaving them parallel with the ground. But we spent a night without wind.
 26.7.2017 – 40 Miles Beach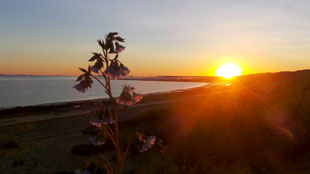 This time with (!) sunset and sunrise
As sunset is over a half hour later down here and we were driving without any stops so we were in time on the 40 Miles Beach Camping for the sunset. Most long time residents everywhere generators were making annoying noises. So we moved to an outside second place of the camping. Having a fresh evening and another spaghetti dinner we soon choose to go in. Half past six in the morning sun started to rise, a warm coffee and breakfast (including neighbour's dog) we choose to start early for our progress to the West. 
First time a powerful internet
After a short trip from Millstream National Park we arrived in the town of Karratha. At visitor centre free and WORKING WIFI !! So all updates are done.
For comments please use entry on page end (down).
26.7.2017 - Millstream National Park
Lost illusions ...
Driving down from the Coastal Highway the wonderful hills promised by advertising the Millstream Park were nowhere (the reason to drive to this place). Flat woodland and savannah ... and a good and great campsite in the middle. The river was for swimming but more green than blue. Just nice to keep the feet inside but not more. All night a generator was roaring. The planned 2 day stay we shortened and drove on early next morning towards Karratha and Dampier along the Rio Tinto track.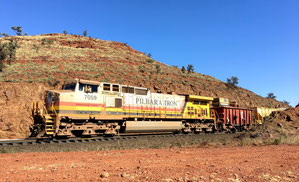 25.7.2017 – Iron Ore trains

Spotting means chasing 
After almost an hour waiting an empty train came from the coast and heading south. Soon the waiting full train started to run again and were placed on a small street hill in perfect position to enjoy the upcoming mine train into the perfect sun position … the first picture already saved the day. In the hilly road more opportunities and more trains came along, so we had to drive forth and back to be in the right place.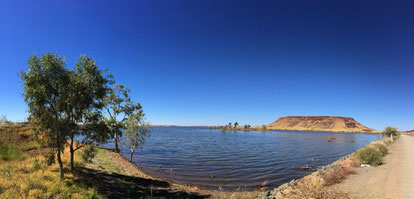 Wonderful landscape ahead
Driving from Roebourne we took the road to Harding Dam. Nicely situated in the mountains the water dam and its surrounding were a big contrast to the endless "flat" driving from Broome – Post Hedland – Roebourne. Then we choose the private Rio Tinto Access Road (with special permission only) to Millstream. Soon we came along the wonderful Lake Poongkaliyarra. Up a winding street we followed the rail tracks and the first train passed, we just missed to take a picture. At a siding he stopped.  
24.7.2017 – Destination Balla Balla
Outback in nowhere 
A nice unsealed street brought us far out on flat grassland till we reached the sea shore … only to see the smallest beach between bushes. A flat and peaceful countryside and flat as far we can see to the horizon. Not a sound we enjoyed this remote place in nature. Watching the most spectacular sunset with a colourful sky afterwards. Without any light and human beings the stars covered the darkening sky until they covered all over and we found a sound sleep. After a quite night we headed west to Roebourne to fill up the car before entering the Millstream region.
23.7.2017 – 80 Miles Beach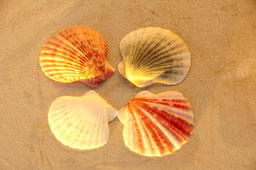 Walking on the sea shore 
Another day starts with a blue sky and we went to walk on the endless sea shore. Most campers and outsiders went to try their luck while fishing. We walked down the long beach and collected all kind of shells. Later we moved on the flat section towards Port Hedland (the most monotone stretch so far). Having a avocado chicken burger and two iced coffee drinks for lunch at the Silver Star restaurant. This is a disused private US passenger coach who ended up at BHP and later as restaurant. After a brief stop we took the next endless flat route direction Roebourne, were we turned at Whim Creek to Balla Balla ! Yes, that is correct, not a beer too much. 
Coming (too) late 
After driving 560 km driving and more than 8 hours on the road we arrived 30 minutes too late for the famous sunset at Eighty Miles Beach … but we got fortunately the last free place at the huge camp site. Too many bird pictures on the way, too long breaks and a short shopping at Broome China Town cost us too many minutes of the too short day.
20. – 22.7.2017 – In Paradise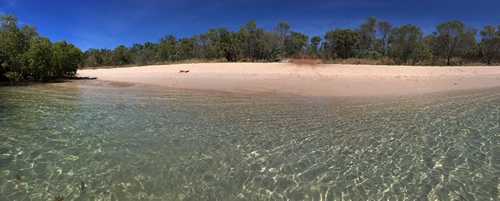 Gumbanan Bush Camp 
Waking up at 6 am the sky was in all shades of red. Our first waking up in paradise … recommended by friends we decided spontaneously to use our one and half spare days at this place. During the day we moved forward to the coast edge and got a "first class" spot we declared as OUR place to be. We spent a lazy day, reading books, go swimming at the nearby sandy beach and taking bird pictures. Sunset was another beauty of the day. After making a "best ever* steak on the fire we happily went to bed at 8 o'clock, tired as always here in the outback. Next morning an orange sunrise again, this time with a group of Dolphins in an almost orange bay. On July 22nd we startet early with a sunrise coffee and were heading back to Broome and later in the day to 80 Miles Beach.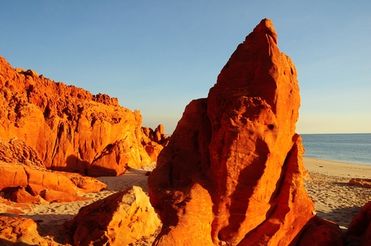 Red stones
Driving out the Dampier Peninsula over 80 km unsealed and another 80 km on sealed road we reached in time the beach for sunset. The famous red sandstones started to "glow" in the last sunbeams. Next to the beach is a nice restaurant but we decided to proceed to Gumbanan Bush Camp before the last light vanishes. Missing the street to the camp we had to reverse and finally arrived at black night at the camp. So we took the first place we saw.
19.7.2017 – Arriving at Broome

Car to repair station
Here we booked into a so called "chalet" at the Vacation Camping. Juhui, a real bed, table and shower, all is for us. Next stop went to a 4WD-car servicing station to check our sound from the transmission box, which made us some concern. After three hours of checking and lubricating we finally could go to the cost line, just to reach the beach at last seconds for a "half the sun" sunset. Later on we had a marvellous dinner at 18 degrees Restaurant and closed the day with a sound sleep in a normal bed.
19.7.2017 – Boab Prison Tree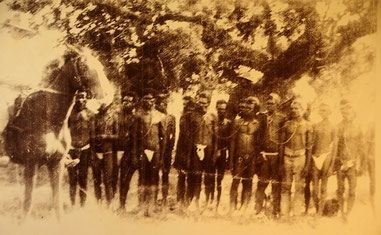 A history not to forget 
Along the way we passed the historic place of Boab Prison Tree: Before Derby was established 1883, Aboriginal people were kidnapped from the West Kimberly. The kidnappers, known as blackbirders, were white settlers who were connected with the pearling industry. They rounded people up, put them in chains and marched them to the coast. Some blackbirders have held their captives at the Boab Prison Tree while they waited for a boat to reach the coast. There, the slaves had to work as divers and as boat people.
19.7.2017 – On the road again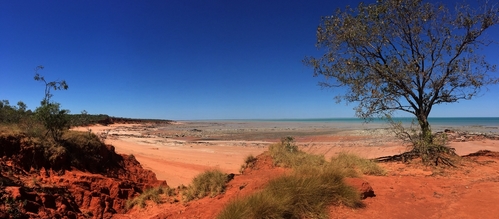 First sight of sea shore 
After a quit night at Birdwood Campground, a farm with riding horses and a friendly host, we travelled along the Gibb River Road (most of it under construction to a modern highway from a single lane sealed street or unsealed wide road) to the west direction Derby. We passed Derby and went on to the Bird Observation Station near Broom. There not getting a decent night place and not many birds could be seen so we continued over a small unsealed road through bushes and savannah towards the city of Broome.
18.7.2017 – The Windjana Gorge 
… and the crocodiles
Early in the morning we went out to hike the Windjana Gorge. A way through sand and along rocks from the ancient Devonian Barrier Reef. This was built up 320 to 400 million years ago. It reached in a wide ark around the Kimberly's. Along the way, about twenty freshwater crocodiles laid on the sandbanks. Later we stopped at Tunnel Creek and had a brief visit through black tunnels, water ponds and under low hanging rocks. After this refreshing experience we headed north on an unsealed road for 70 km to reach the Gibb River Road.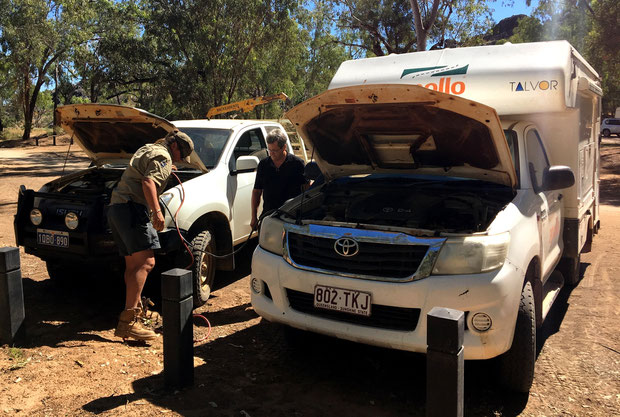 Lights on – battery empty 
After a nice, one hour boat trip at Geikie Gorge on the Fitzroy River we came back to the carpark and tried to start the engine. No way … had battery emptied because of letting lights on. Asking the next ranger woman for help: "No worry, go back to your car" was her reaction and within 30 seconds she was aside our car with her pickup and cables. The day was saved … almost. At noon we checked in at Windjana Bush Campground and had a nice evening walk to the Gorge. Middle in the night we went to toilet … couldn't found them and as we succeeded finally we didn't found back to our car (finally we found him too) … definitely our lucky day (and night).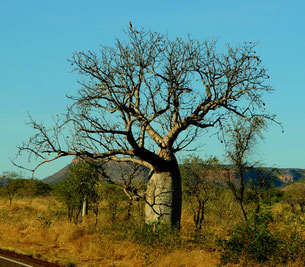 An old Aussi man
The Boab Tree has been evolving in Australia for about the last 190 million years. They are believed to have originated from plant material washed to the shores from Madagascar, where six different species of it exists. A Boab Tree can withstand bush fires and draught. It stores water in its fibrous tissues during the wet season and swells in diameter. When burnt it "peels" an outer layer. The age of a Boab Tree is difficult to determine as old trees are hollow and have no grows rings. It seems, some of the large and bottle shaped trees are some thousand years old!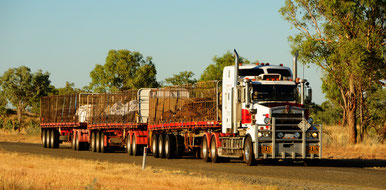 Next stop Fitzroy Crossing
After a night stop at a parking lot near Alice Hill along the highway (almost no traffic during the night, so we had a good but cold sleep) the trip went on to Halls Creek with a fuel stop. Coming just after noon close to Fitzroy Crossing we passed the first 2000 km mark of our holiday. At Fitzroy River Lodge we got one of the last powered sites and had all amenities you need … recharging all batteries, dirty closes to laundry, internet connection at 6$ an hour and a great dinner at restaurant. We are ready for the next adventure. 
15.7.2017 – A hot walk back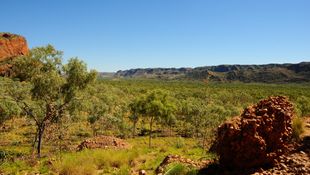 Sun taking its toll
After the gorge a short way to the Osmond lookout. This area was once an extensive geological basin which sediments accumulated from the weathering of the Osmond Range from the action of wind, rain and rivers. After taking in the view a hot walk back was before us. The sun burning down and water supply getting short we arrived at our parking. 
15.7.2017 – Echidna Chasm
The sun in the rock 
The night getting almost at freezing temperature, we took off to "The Bloodwoods" parking ground. Along the "Escarpment" hiking way we reached after 1 hour the entry to "Echidna". We started the walking over a stony river bed (very tiring for my old knees) into the Echidna Gorge were we reached a spectacular "hall". The sun started to alight to ground of the gorge around 11 am. A lot of people enjoyed with us the moment of the orange coloured gorge inside.
14.7.2017 – Amazing Bungle Bungle
The "beehive" Mountains 
After a 56 km unsealed road we came to visitor centre (closed 12am-01pm) and we made our self-booking. The southern campground "Walardi" is for online-booking only. Therefore we drove first to southern side to see the "beehives" of Piccaninny. Walked to Dome Loop and Cathedral Gorge, wonderful rock formation to see from inside. These rounded, sandstone domes have a protective skin of orange bands of iron oxide and grey to black bands of cyanobacteria. The foundation for these sandstone cliffs were laid down 360 million years ago. The range now stands 200 meters above the surrounding plain. After 2 hours of walking we drove the 30 km unsealed road to northern camp "Kurrajong", late as usual and set up in black night at 6 o'clock. 
14.7.2017 – Through the river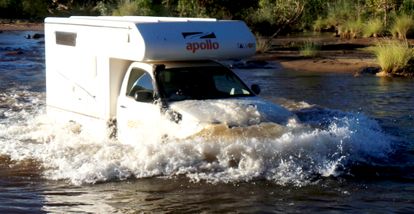 Bush Camp to Purnululu National Park 
Soon after 6 am the sun brought back the warm sunbeams to our bush camp. Breakfast in the outback is a big enjoyment, nature at its best. At 7.30 am we drove off to the Purnululu National Park. Turning off the Great Northern Highway we soon came to Sandy Creek River crossing, a short stop and hop it goes into the floods were in the middle the motor died … f*** it … a quick restart and out. A second (photo shooting) attempt succeeded and 50 km of unsealed road to Purnululu followed.
13.7.2017 – Missed Sunset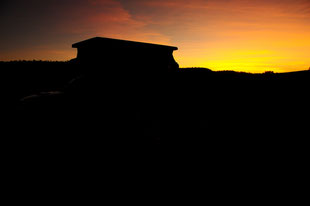 Nothing but stars in the sky 
Arriving later in Emma Gorge we had an hour long walk over rocks to the beautiful located gorge in red stones. In cold water we took a refreshing swim and went back. Sun became low as we drove off, than we realised the famous red mountain band nearby …  but it is not illuminated by the sun in winter, so no advertisement picture for us! We proceeded to set up a bush camp just after the placed called "Grotto". Night set in quickly at 6 pm and the stars filled the sky. The southern Milky Way galaxy almost above us … how small and thankful for our life we felt under this enormous sky. 
13.7.2017 – Five River Lookout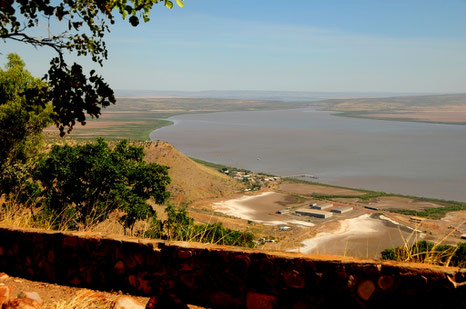 A relaxing day 
Early getting up, the old battery clock set to half past six went off an hour before. No worry … we picked up our things, drove to petrol station (the last trip took up 10 l/100 km consumption), filled tank and two coffee cups. Breakfast at the Lake … shore. Next, we drove to Wyndham. At the Five River Lookout, a spectacular round view over the seashore of Joseph Bonaparte Gulf waited for us.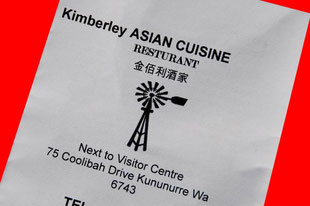 Arriving at Kununurre 
It seems all camp grounds are fully booked at six o'clock, but finally at the third stop we caught the last empty place at Ivanhow Street. After the long day we had, we went to Kimberly Asian Restaurant in the town centre. We had a delicious food of fried Seafood Sweet Sour and Lamp on Chinese Vegetable for a reasonable prize with friendly staff, can be recommended. 
12.7.2017 – Slow progress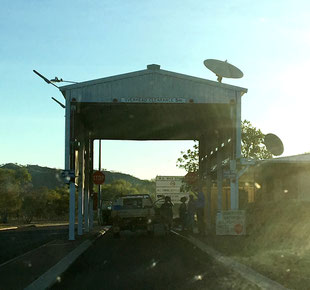 Welcome to Western Australia
After a 14 hour sleep at Edith Falls (taking up for the missed sleep of last flying night) our waking up was way behind schedule … but we felt fresh for the day! The 550 km drive brought us down the Interstate Quarantine at the border to Western Australia. "Any fruits, any vegetable? May I have a look in the fridge Mr Trippi?" … oh, the global citizen is already known down here too (we didn't showed any paper). "No worry, have a good trip" and off we went to Kununurre.
11.7.2017 – Day 1 in Australia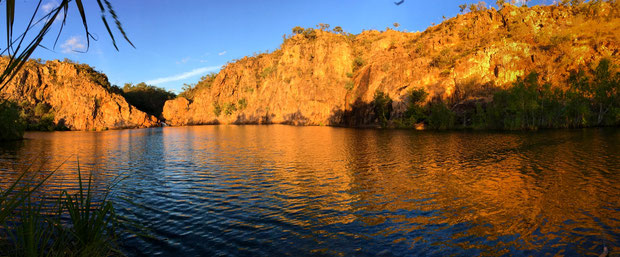 First gorge – first swim – first ginger beer 
First stop took us to the Katherine Gorge area. Taking the sealed road we ended up in Edith Falls (the navi location finder ended up there). Never mind, we missed the earlier intention by some kilometres. But we were at a "dream gorge" with nice swimming and a wonderful "sunset on the rocks". The water took a pure golden colour from the last sunbeams. A Bundaberg Ginger Beer rounded the day up. A good start for our 6000 km trip.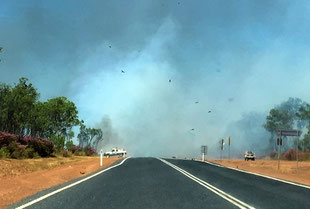 First bushfire
Soon after we left Darwin a big smoke plume was ahead. As the fire was under control at the street border we could proceed through the heavy smoke. Over twenty big birds were cycling the location to pick up fleeing animals.
11.7.2017 - Arrival at 2 am at Darwin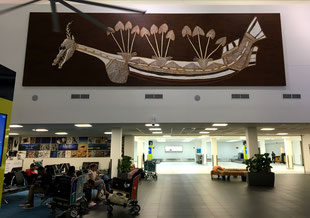 Middle of the night to Australia
A whole bunch of Swiss families and couples filled the front half of our SilkAir flight. Fish and saucy spaghetti for a midnight dinner and more delicious four chocolate vanilla ice cream candies made up as a sweetener. Arrival on time but no gate ready for another 20 minutes on the tarmac ... baggage claim took even longer, too much work at this time on the ramp ? ... and not to forget the time change of 1.5 hours (yes, Darwin time zone is special).
10.7.2017 - Bye bye Singapore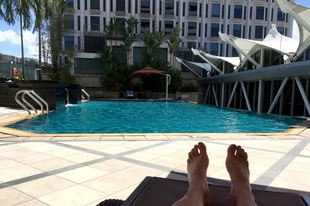 Cool down in the hotel pool
The third day ... full sunshine, high temperature, high humidity ... finally after a free and beautiful river cruise and a walk in the Gardens by the Bay we gave up and enjoyed the swimming pool of our Peninsula Excelsior hotel. At 4.30 pm it was time to leave for the airport where we departed at 7.55pm to Darwin. A night flight of 4.5 hours with a fully loaded B737-800 of SilkAir.  
10.7.2017 - Gardens by the Bay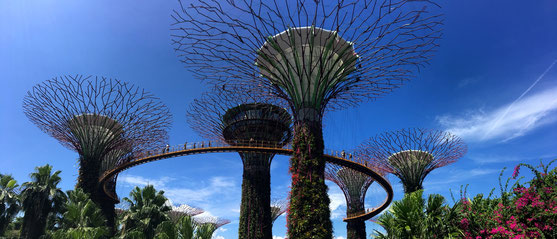 9.7.2017 - Flowers to enjoy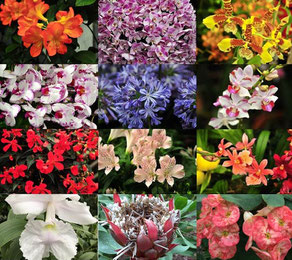 Spectacular Greenhouse
Step into the Flower Dome and stand in awe. It is the largest glass greenhouse in the world. Be amazed by the display of flowers and plants from the Mediterranean and semi-arid regions.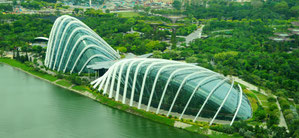 9.7.2017 - Singapore Marina Bay Sands SkyPark Observation Deck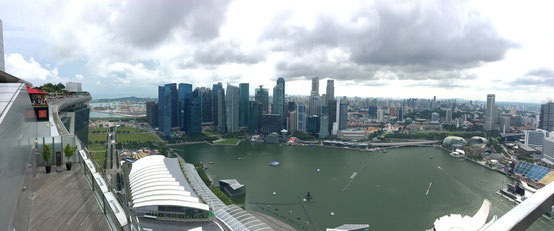 9.7.2017 - Safe your money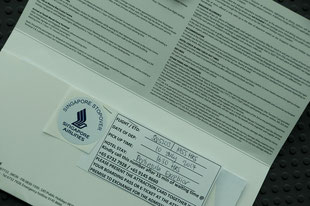 SIA stopover arrangement
Book a transfer stopover night with SIA and you save plenty of your SG$: Singapore Flyer (wheel) at no cost (standard prize 33$pP), Flower Dome and Cloud Forest at no costs (60$ pP), SkyPark observation platform instead of 46$ only 36$ pP., hop-on hop-off bus at no cost (38$ pP a day) and many more museums, boat tours, botanic garden and others at no costs. For entrance you have to show always your departure and stopover pass.
8.7.2017 - Singapore by Night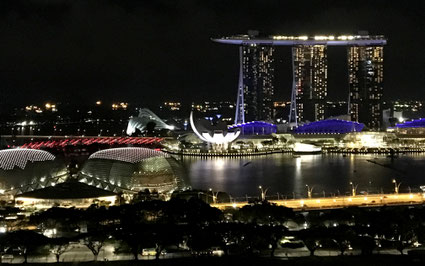 Enjoy the night at hotel
We booked the Peninsula Excelsior Hotel, which is 5 km from the city centre, by taxi (10$) 5 min only from the famous Marina Bay Sands away. It is about half price when booked with SIA stopover arrangement = 230$ for 2 nights. The hotel restaurant has a tremendous view (see picture with Marina Bay Sands Hotel in the background), food is average but with reasonable prices. Standard room is comfortable and spacious.
8.7.2017 - Little India Market 
A buuzing ethnic district
Little India is a buzzing historic area that shows the best of Singapore's Indian community from vibrant culture, markets to incredible shopping.
In the 1840s, Europeans lived here mainly for the racecourse, where they met and mingled. When cattle trading took root, it became a mostly Indian trade as traders hired Indian migrant workers. Certain goods and services took off, and mosques and Hindu temples were built.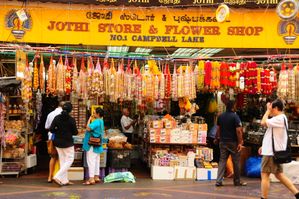 8.7.2017 - Singapore stop over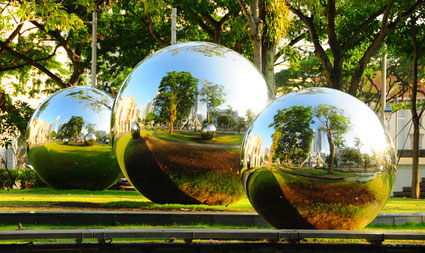 A different view of Singapore
After a 12 hours flight we checked in at Peninsula Hotel but couldn't go to the room at 8 am. So a first "Hop on Bus tour" took our tired legs around the city at sunny weather.
7.7.2017 - Flight into night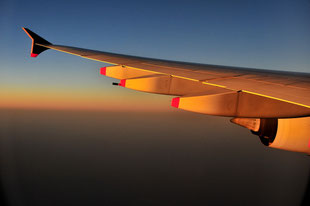 Dawn at Masar-e Scharif
While over Afghanistan, our Singapore Airbus 380 flew into night. The desert below turned from light brown to darkness within half an hour. A golden wing flew through sky.
3.7.2017 - How to get a road permit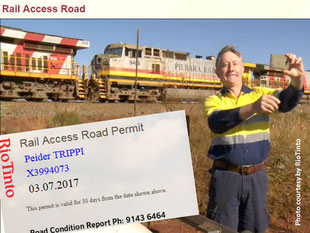 Road Assessment passed 
Rio Tinto rail network is the largest privately-owned and operated rail system in Australia. As tourist you need a special permit to drive on Rio Tinto Access Roads along the tracks. Several instruction videos show how to travel safely in the outback, how to survive a bush fire and how to behave when taking train pictures. A ten question assessment has to be passed to gain the permit to drive on private Rio Tinto roads.
28.6.2017 - 6000 km ahead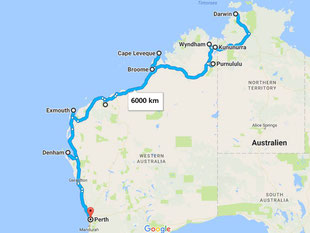 Trip Overview 
Highlights will be El Questro with Emma Gorge. Bungle Bungle with Piccaninny Creek and Cathedral Gorge, Geikie- and Windjana Gorge National Park, Broome with Cape Leveque. Down to Port Hedland and Millstream National Park, back on the Rio Tinto Rail Access (gravel) Road to Karratha. Then westwards for snorkelling to Exmouth. Down to Coral Bay, Shark Bay and Cape Perron. The last leg goes to Pink Lake in Gregory before heading south for Perth.  
27.6.2017 - Darwin to Perth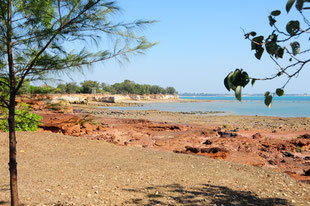 Let's start down under our 2017 trip 
After days (weeks) of planning, our next trip to Australia will start July 11th, 2017, at Darwin. It will take us all down the Western Coast to Perth, where on August 4th the camper has to be returned. Keep track with us and enjoy our experience in the outback.
photo: Darwin 2015
P.Trippi Australien - Travel Blog Down Under 2017
Fotos copyright by P.Trippi